If you or a loved one owned a home around the Rocky Flats plant as of June 7th 1989 – you may be eligible for the recently settled $375 million Rocky Flats Home Owners Class Action Case. To see the area eligible, check out the map below. After months of waiting, there is an update on moving forward with your potential claim.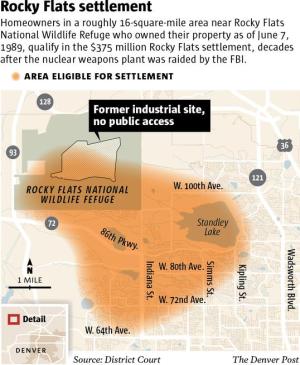 If you believe that you fit the criteria please contact the court-appointed Settlement & Claims Administrator's official website: www.rockyflatsettlement.com or call (844) 528-0187
If you or a loved one worked at Rocky Flats and developed cancer, you may be eligible for other forms of compensation. Please visit our website for EEOICPA Workers for more information.